Genre: Young Adult Fiction
Heritage: Japanese American
Published Date: 2006
Blurb: Twelve-year-old Sumiko feels her life has been made up of two parts: before Pearl Harbor and after it. The good part and the bad part. Raised on a glower farm in California, Sumiko is used to being the only Japanese girl in her class. Even when the other kids tease her, she always has had her flowers and family to go home to.
That all changes after the horrific events of Pearl Harbor. Other Americans start to suspect that all Japanese people are spies for the emperor, even if, like Sumiko, they were born in the United States! As suspicions grow, Sumiko and her family find themselves being shipped to an internment camp in one of the hottest deserts in the United States. The vivid color of her previous life is gone forever, and now dust storms regularly choke the sky and seep into every crack of the military barrack that is her new "home."
Sumiko soon discovers that the camp is on an Indian reservation and that the Japanese are as unwanted there as they'd been at home. But then she meets a young Mohave boy who might just become her fist real friend...if he can ever stop being angry about the fact that the internment camp is on his tribe's land.
With searing insight and clarity, Newbery Medal-winning author Cynthia Kadohata explores an important and painful topic through the eyes of a young girl who yearns to belong. Weedflower is the story of the rewards and challenges of a friendship across the racial divide, as well as the based-on-real-life story of how the meeting of Japanese Americans and Native Americans changed the future of both.
About the Author: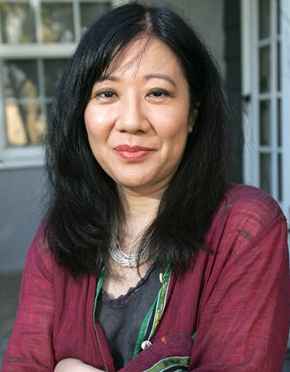 Cynthia Kadohata is a Japanese American writer known for writing coming of age stories about Asian American women. She was born in 1956 in Chicago, Illinois USA. She had a BA in journalism from the University of Southern California. She is the author of the Newbery Medal-wining book kira-kira, Weedflower, and several critically acclaimed adult novels, including The Floating World. She has published numerous short stories in such literary journals as the New Yorker, Ploughshares, Grand street, and the Mississippi Review. She now lives with her son and dog in West Covina, California.