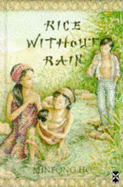 Book title: Rice Without Rain
Author: Minfong Ho
Genre: Young Adult Fiction
Heritage: Thai American
Published Date: 1990
Blurb: Another dry season - another silent harvest!
The parched yellow fields outside the village where seventeen-year-old Jinda lives are her family's only source of income. How can the rain-starved crop produce enough rice to feed them, much less pay the rent? Perhaps the recently arrived young strangers from the city are right about the need for centuries-old traditions to change. At least when she listens to their talk, she feels the stirrings of hope...
Hesitantly, Jinda grows to trust the outsider. There is Sri, who brings with her life-saving medicines and knowledge of how to use them. And there is Ned, who talks of talking charge of one's own destiny, and fighting those who would stand in the way. It is almost too late when Jinda realizes that her trust is misplaced - that to Sri and Ned their cause is more important than the lives it would affect. Against a vividly evoked backdrop of rural and urban Thailand, Jinda heroically faces the challenges of holding on to who is as the world around her revolves in what seems to be never-ending change.
After social rebels convince the headman of a small village in northern Thailand to resist the land rent, his seventeen-year-old daughter Jinda finds herself caught up in the student uprising in Bangkok.
Minfong Ho is an award winning Chinese American writer. She was born in Rangoon, Burma, and raised in both Singapore and Bangkok, Thailand. Her parents are of Chinese origin, so she spoke fluent Chinese in her home, Thai in the marketplace of Bangkok and English in school. She was educated in Thailand and Taiwan, before moving to the United States to attend Cornell University in Ithaca, New York. There, she received her BA in Economics and History as well as her M.F.A in Creative Writing. She currently lives in Ithaca, New York with her husband John and children Danfung, MeiMei, and Christopher.